XFORM
XFORM is Janeiro Digital's new enterprise software platform, purpose-built to integrate open standards for data decentralization that enable national governments, international institutions and large enterprises to harness the possibilities of the decentralized web.
We've developed XFORM as the only enterprise-grade, data integration solution that uniquely enables the crucial connectivity between applications created for the decentralized web and existing enterprise architectures.
XFORM is industry-agnostic and ensures interoperability across all applications and ecosystems at scale. It is powering some of the earliest iterations of the decentralized web and implementations are already underway in healthcare, government and pharmaceutical industries, benefiting patients, physicians, carers, citizens and the organisations supporting them. By implementing XFORM, organizations are able to meet rising demand for data control and privacy, which includes regulatory requirements such as GDPR, as well as growing consumer demand.
XFORM is also driving the growth of a new ecosystem of applications, opening the door to applications and services that can deliver new value back to the user through consented access in real-time. It is available through a software license agreement.
XFORM Health
To meet the significant demand from healthcare and pharmaceutical sectors for the benefits of decentralized web technology, we developed XFORM Health as the first iteration of an industry-specific version of the XFORM platform. At the request of one of the world's largest social healthcare systems - the UK's National Health Service - we have worked hand-in-hand with internal teams to connect their traditional enterprise architectures with decentralized personal health stores and demonstrate the true potential for ethical web applications capable of scaling across the nation.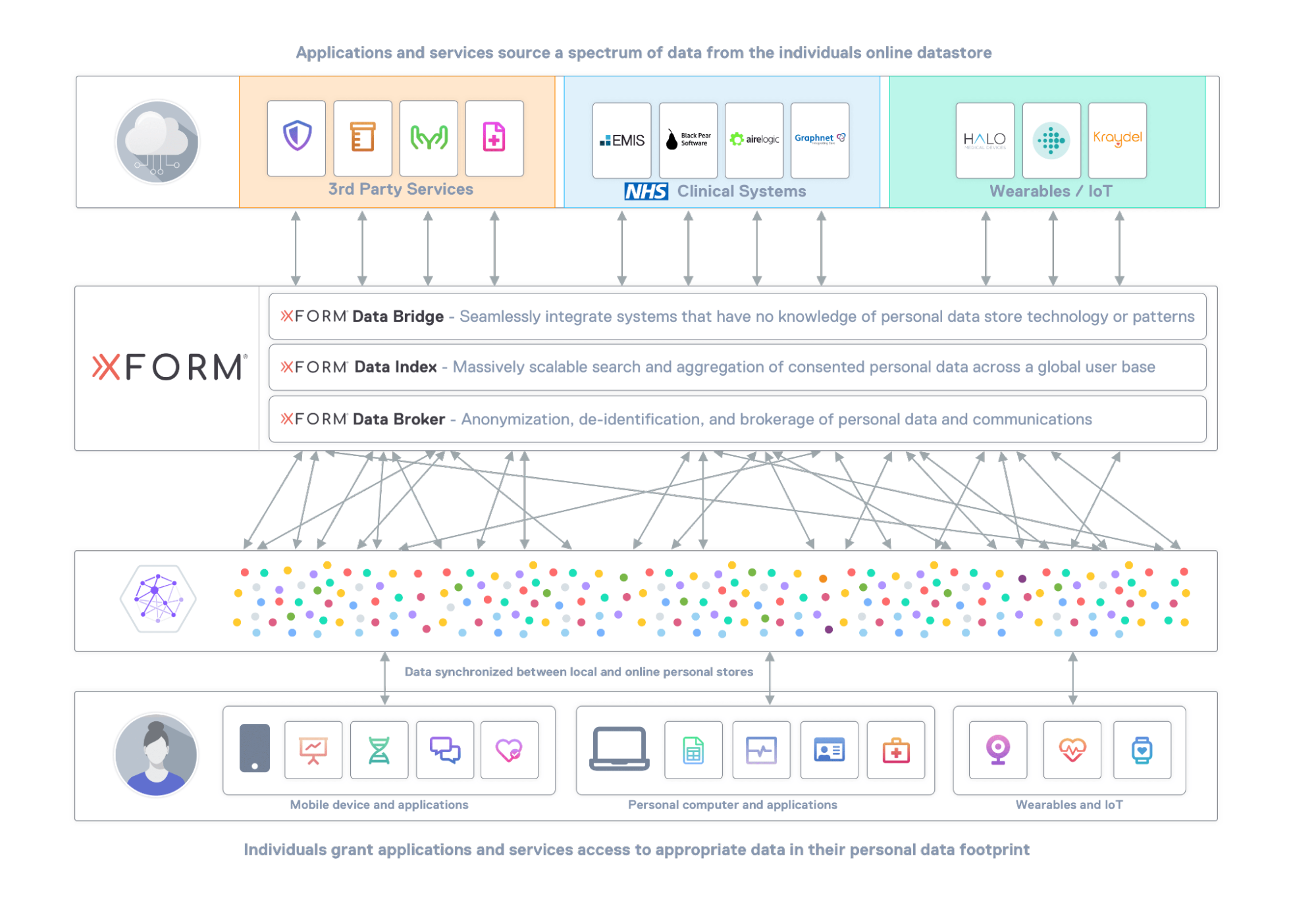 XFORM Health allows large and highly complex healthcare and life science organizations to give individuals full control over their personal health data, the option to enrich their data with external sources (i.e., Apple Health) and the opportunity to participate in ecosystem extensions, while ensuring that enterprises adhere to rigorous architecture and security requirements, such as GDPR.
XFORM Health provides seamless integration with clinical systems, healthcare workflows, datasets and integration points using proven and scalable technologies. It connects patients within any health system, national or private, with personal health stores that can drive secure and vibrant ecosystems.