Press
/
Survey: Digital Transformation in the Oil and Energy Sector Hindered by Critical IT Skills Gap
By Joanna Flynn | July 11, 2018
PRESS RELEASE | BOSTON, JULY 11, 2018
Findings from Janeiro Digital Show Oil and Energy Companies Struggling to Translate New Technology Deployments into Market Leadership
Janeiro Digital, a digital business consultancy solving mission-critical business objectives with innovative technology solutions, today released the results of a survey of middle- and senior-level managers in utilities, energy, and extraction, Mind the (Skills) Gap: Fueling Digital Innovation and Transformation in Oil and Energy . The findings reveal that these companies have been quick to adopt new technology, but are still exploring how their innovations impact business strategy and translate to market leadership. Despite a daunting skills gap, these new technology deployments mean oil and energy companies are primed for growth as they streamline their infrastructure and optimize their existing infrastructure.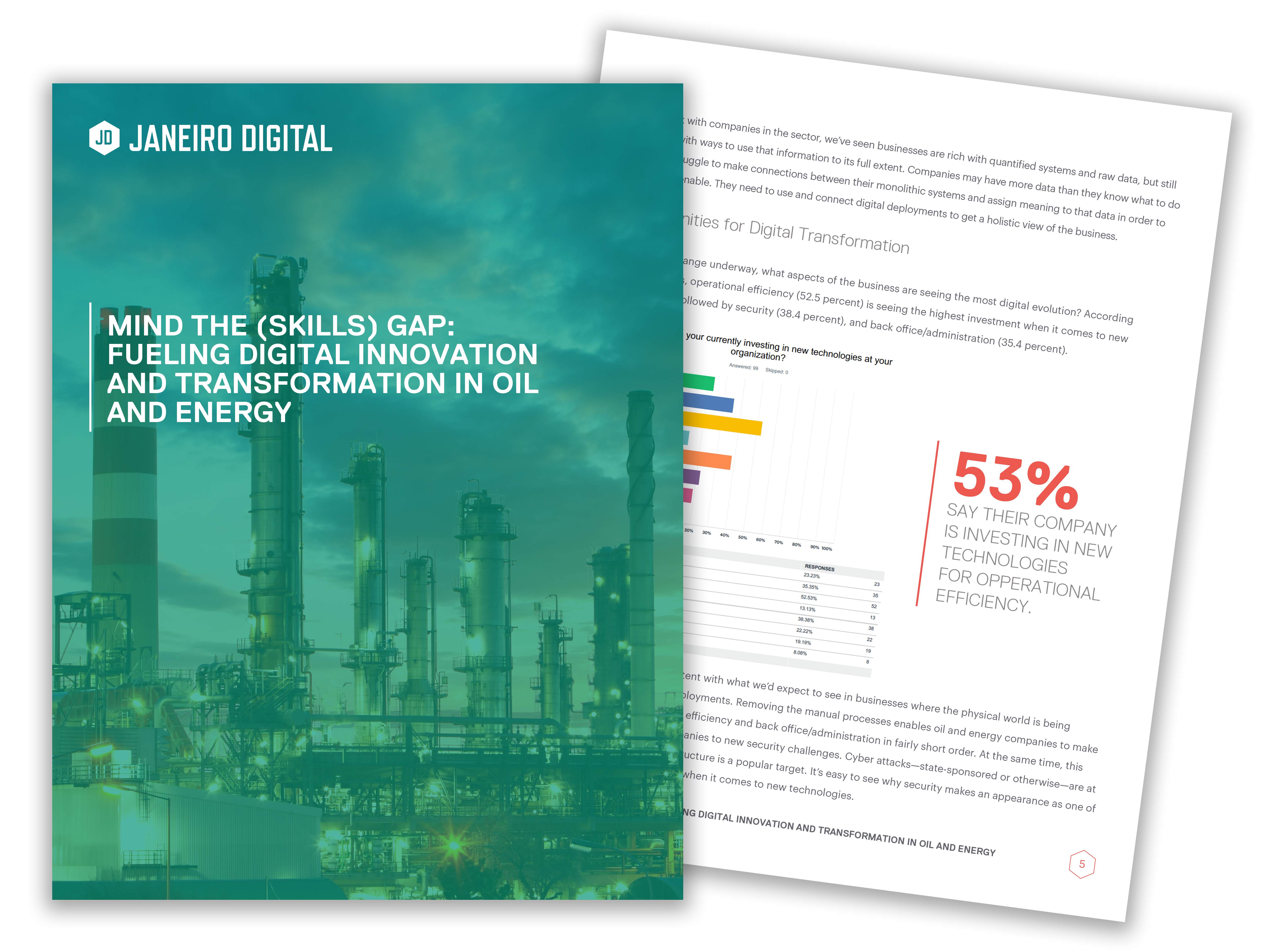 New Technologies and Rapid Change
More than half (54.6 percent) of survey respondents said that their organizations are currently implementing new technologies and another 16.2 percent are looking to do so in the near future. The following areas are seeing the highest investment when it comes to new technologies:
Operational efficiency (52.5 percent)
Security (38.4 percent)
Back office/administration (35.4 percent)
"Early on, businesses in oil and energy were compelled to adopt digital technologies and IoT for physical monitoring, safety, and security," said Josh Collins, vice president of architecture at Janeiro Digital. "But now that this digital infrastructure is in place, the next race for market leadership is on. These companies now have access to unprecedented quantities of data that they should be using to develop innovative solutions to their most critical business issues."
 
Skills Gap Challenges Still Lie Ahead
Despite the open opportunities in front of oil and energy companies, the survey found that businesses are still exploring how best to leverage their new technology deployments, with 78.8 percent deeming their digital transformation is average or behind the curve. The biggest roadblocks respondents cited when looking to implement new technologies point to a severe IT skills gap:
46.5 percent claim a lack of in-house technical skill
Another 37.4 percent are grappling with legacy technology and infrastructure
Despite these skills-related challenges, however, only 8.1 percent of respondents reported that their organizations were investing in codifying subject matter experts' knowledge into their IT infrastructure.
"The challenge here is twofold. Employees that have spent their lives working in plants and deeply understand how systems tie together are beginning to age out of the workforce. Meanwhile, the next generation of digitally-native employees are entering the field, often leapfrogging over the hands-on tasks that their predecessors learned," says Collins. "Oil and energy companies need to codify experts' knowledge into their technology deployments to bridge the gap with the next generation, but finding talent with the unique set of skills to do so is a major challenge. It's the companies that navigate this challenge well over the critical next few years that will end up ahead of the pack." 
Full results of the survey can be downloaded here: Mind the (Skills) Gap: Fueling Digital Innovation and Transformation in Oil and Energy.
For oil and energy professional considering an investment in new technologies, Janeiro Digital is offering a free call with its team of technical architects and experts whose job is to listen to you problems and provide actionable solutions, commitment-free. Let us know if you're interested and we'll set it up.