For their very first project together, CyrusOne had come to Janeiro Digital with the unique challenge of figuring out how to capitalize on odd-shaped unclaimed floorspace in their data centers as part of their business. That work resulted in a brand new revenue source for the company through the creation of a new data center marketplace and the offering of a single-rack server hardware unit.
(For all the detail, read more about the CyrusOne Data Center Marketplace project.)
While becoming familiar with the business challenges faced by CyrusOne during the Marketplace project, Janeiro Digital saw a way to extend their efforts to help another area of the business that needed a hand: Customer Care.
Challenge
CyrusOne operates state-of-the-art data center storage facilities around the globe that allow customers to purchase space and services for the housing and maintenance of their technology infrastructure. Within CyrusOne's data centers, their customers are able to utilize services for their equipment such as monitoring, security, climate control, and maintenance. CyrusOne had a reputation in their industry for always following a customer-first mindset with their offerings and services. They worked hard to earn their business and deliver custom operations for each sale.
And yet, Janeiro Digital observed, CyrusOne lacked a real way for their customers to feel connected to their setups — especially for simple interactions such as choosing services or self-monitoring the status and conditions of their setups.
As a result, CyrusOne's Help Desk and support operations were constantly flooded with a wide range of requests. Their legacy ticketing system strained to handle the support load and manual phone and email follow-up made for slow service and high overhead. CyrusOne was utilizing multiple support and customer relationship applications, such as ZenDesk and SalesForce, to manage the requests. While the features they offered each had important roles to play in their operations, these distinct applications didn't tie together well and hindered efficiency.
Janeiro Digital felt confident that they could build on the knowledge and understanding they had gained from the previous project. They were certain they could help streamline the Support team's efforts and give CyrusOne's external customers an improved experience at the same time.
The team began to spin up a new cycle of their RADD process in order to apply their learning and expertise to this new challenge.
Solution
By asking careful questions and observing the operations already in place, Janeiro Digital identified the types of issues the Help Desk was dealing with and how much time the associated tasks took. Many of the support requests that the Help Desk was encountering each day were repetitive and seemed to be good candidates for automation. Janeiro Digital prioritized the activities that would make the most impact in the day-to-day if the burden of them was lessened and went to work on the solution.
Through iterative phases of Rapid Alignment, Design, and Development, Janeiro Digital designed and implemented the CyrusOne Portal. It would be a brand new customer-facing application that offered a secure, web-based experience for their customers to interface with their accounts and interact with the company more effectively than ever before.
This new customer portal would reduce the volume of tasks flowing through the Help Desk by allowing customers to take care of many of their requests independently. Because it would alleviate the burden of those smaller and simpler tasks on the support team and allow them to focus their efforts, the need for additional staffing would be decreased.
CyrusOne Portal would give customers one central location to log in and handle common tasks on their own, such as the ordering of parts and upgrades for their data space, arranging secure access for their employees and contractors, creating appointments, filing support requests, monitoring usage of data center resources, reviewing billing charges, and subscribing to notifications and alerts.
CyrusOne Portal works across all major browsers and devices, renders dynamically based on user role and access level, and employs two-factor authentication to ensure access is limited to credentialed individuals only. The portal also allows CyrusOne personnel to create email alerts that feed into the system as an easy way to notify all clients who match certain criteria about system-wide changes or updates.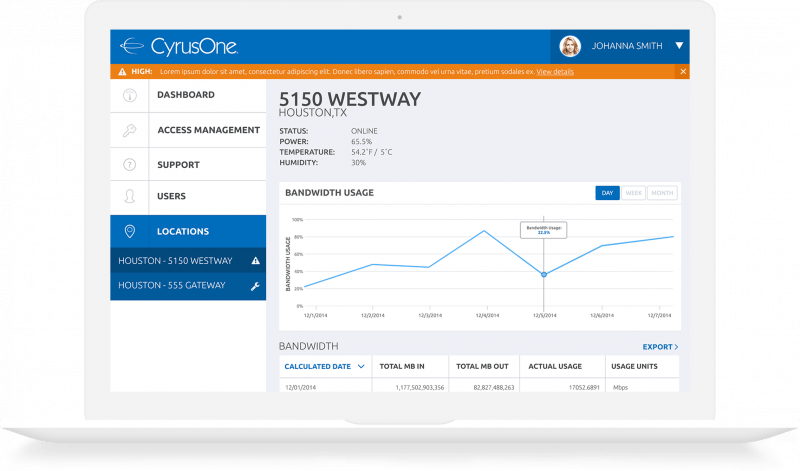 Benefits
CyrusOne Portal created a streamlined incoming support flow that reduced response time, lowered overhead costs, and increased self-service sales opportunities. Within sixty days of the Portal launch, CyrusOne experienced 100% adoption across their client base.
The Portal has driven transformative operational change in the day-to-day of the Support Team at CyrusOne and they've seen an 85% reduction in customer service overhead. By letting the team focus on their important tasks, they're able to offer better customer service for those customers that require a high-touch relationship.
Not only does CyrusOne Portal allow customers to actively monitor and understand what's happening in real time with their systems, but it also makes it possible to purchase additional services that don't require connecting with a Salesperson on the phone. Customers can more easily access their data centers, obtain invoice information, and order additional services as they need them. The ease of the experience leads to increased customer satisfaction and a more efficient operation.
Internally at CyrusOne, there was resounding support for the Portal from team members. Since it's launch two years ago, the Portal has become a central piece of the customer experience for CyrusOne. As CyrusOne implements the system more and more into their operations, the application continues to grow and more features are being added.
Scaling the business smoothly
A true partner relationship has evolved over time, allowing CyrusOne and Janeiro Digital to finetune an efficient workflow for planning and development to assure project success and minimize risk every time. CyrusOne trusts Janeiro Digital to make innovation suggestions — such as the Data Center Marketplace and the new Customer Portal — for new efforts that will transform their business because they know the systems and the business concerns so well.
And, because Janeiro Digital knows so much about the data and structure that exists, they're able to offer solutions using the existing tools at CyrusOne to address the issues. This lets CyrusOne and Janeiro Digital operate as true partners for solving business problems with technology.
Janeiro Digital is on a mission to help their clients refine their businesses through transformational initiatives. They are committed fully to understanding the state of CyrusOne's business and the problems they experience and then developing technology solutions that move the needle. Together, they examine what they've done and what they've accomplished and look ahead to understand the longer-term needs. With an eye always towards future growth and feet planted firmly in established wins, they're able to make sure that the solutions they work on now will fit well with the solutions of tomorrow.
Got a technology problem? Our team of hardcore technical architects and experts can help. Let's set up a time to talk about your business goals and how we can help you innovate to reach them. 
About CyrusOne
CyrusOne operates state-of-the-art data storage centers around the globe. They offer customized data center solutions tailored to the IT needs of their customers to help them lower short and long term capital and operating costs. This allows their customers to overcome current and future capacity constraints by responding to technological updates, meeting business growth, and complying with up-to-date industry regulations.
Learn more at www.cyrusone.com
CyrusOne, Part 1: Mapping new business opportunities
CyrusOne and Janeiro Digital began working together a few years ago. Over the course of several projects, a fruitful relationship…
Read more
CyrusOne, Part 3: Reimagining efficient invoicing
CyrusOne offers data center solutions and colocation services for enterprise clients. Their global data storage centers allow customers to purchase…
Read more